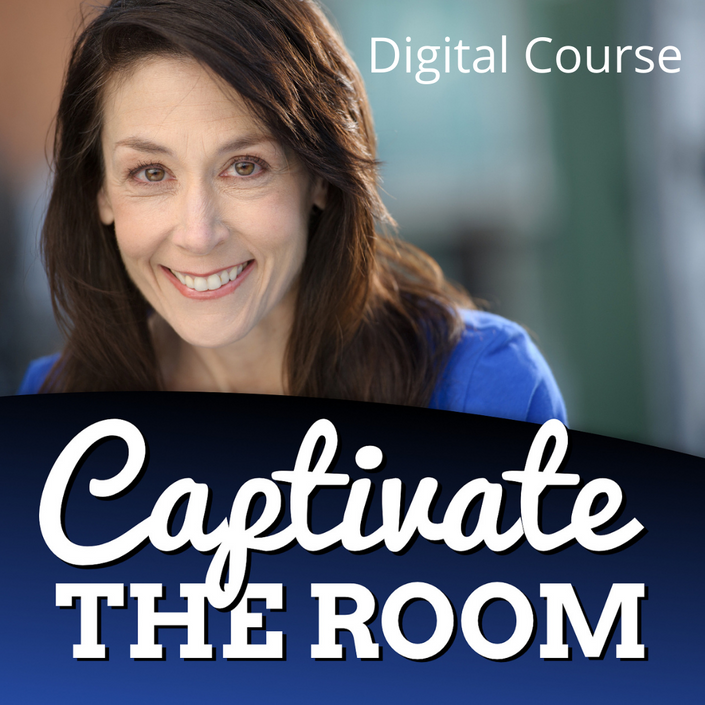 Captivate the Room with Your Voice Digital Course
Make a Bigger Impact with Your Message
Watch Promo
ARE YOU READY TO GROW YOUR BUSINESS IN A BIG WAY?
No complicated formulas, high-pressure selling, or 100-hour work weeks required.
YOU'VE PROBABLY SPENT A LOT OF TIME AND MONEY TRYING TO FIGURE OUT HOW TO UPLEVEL YOUR BUSINESS...
Or worse, you're frozen…spending too much time thinking about what you should be doing, and never really taking action, because you just don't know what to do.

You're spinning your wheels, searching for the missing ingredient that can finally launch you from mediocre to massively successful.

The result?

You're exhausted, you're burned out, and you don't know if this is ever going to work.
WHAT IF YOU HAD A SECRET WEAPON THAT LET YOU:
I'm going to let you in on a little secret…
YOU ALREADY HAVE THE SECRET WEAPON.
YOU JUST NEED TO KNOW HOW TO USE IT.
If you're skeptical, I get it. Nowadays, everybody has their secret formula.

After spending 30 years in my field, I've seen it all. The masterminds, the groups, the challenges, the workshops, the masterclasses, the blueprints, the roadmaps…all of it.

And while you can learn a lot, the truth is that if you don't get down to the root of your issues, it's going to be very hard, maybe even impossible, to solve your problem.

Impossible to connect with your audience at the next level.

Impossible to inspire people to work with you.

Impossible to see the kind of growth you're dreaming of.

Now, I don't throw that word impossible around lightly. Because when you have the right tools for the job, you can do just about anything.

I'm Tracy Goodwin, the expert voice coach behind many of your favorite celebrities and celebrated business gurus.

In my 30-year career, I've worked with Oscar, Emmy and Tony winners to Fortune 500 C-level executives. Hundreds of entrepreneurs from all around the world come to me to help them tap into the ultimate tool for success in business and in life – the voice.

You see, for a long time, I knew my voice had power, but I didn't know exactly how it worked. I started winning speaking awards when I was just 12 years old, and I started acting and coaching other actors on how to use their voice to become better performers.

I even experimented with some of the other cookie-cutter voice coaching programs out there that promise to turn you into a perfectly polished professional speaker.

But, after years of trial and error and the big lessons that come from a LOT of experience, I discovered something really powerful…

It wasn't just actors and professional speakers who benefited from voice coaching.

Business people, including top performers at Fortune 500 companies, started coming to me for help.

They were struggling to communicate the way they wanted to.

They were struggling to be the person they wanted to be.

They were struggling to show up the way they wanted to.
Psychology Of The Voice®
What is Psychology Of The Voice®?

It's the revolutionary framework I developed based on decades of research and work with hundreds of people, all over the world, from every walk of life.

Psychology Of The Voice® will help you identify the subconscious blocks that are affecting your voice and holding you back.

Even better, it will help you break through those blocks and get you on the path to the confidence and freedom you need to find and use the personal power of your voice.

And now, I'm making it easier than ever to use Psychology Of The Voice® to transform your business and your life.
THE VOICE + CONFIDENCE
PERSONAL STARTER KIT
The Simplest Way to Tap Into Your Authentic Voice

So You Can Grow Your Visibility and Your Business

…With Nothing More Than Your Voice

This specialized, self-study course PLUS personal feedback package puts you on the fast track to learning how to stop holding back and start standing out in today's crowded market using the revolutionary framework of Psychology Of The Voice®.

In this on-demand digital course, you'll tackle the biggest problems holding you back from being confident, finding the words, eliminating blocks and masks, and even getting visible online so you can be the best version of you for your audience…but more importantly, for yourself.

The full digital course will give you the foundation, and the personal feedback on your videos will zero in on your specific opportunities. Now, you'll get started with techniques so you become a more confident, expert and engaging speaker in meetings, video and sales calls

YES, you can get personal feedback. In this special package, you get coaching notes from Tracy on six (6) of your submitted coursework videos (to be completed within 3 months of purchase date).


You see, when people hear the confidence and authority in your voice, they know they can trust you to help them with their problems, and they'll be ready to buy whatever you're selling. That's the power of your voice!



WHAT'S INSIDE THE VOICE + CONFIDENCE
PERSONAL STARTER KIT

CAPTIVATE THE ROOM WITH YOUR VOICE
DIGITAL COURSE + PERSONAL FEEDBACK
MODULE 1: REVEALING THE REAL YOU
Dive deep into Psychology of the Voice®, learn how muscle memory is working against you and how you can change it, and how to master the fundamentals of speech that are holding you back.
MODULE 3: CAPTIVATE AND COMPEL
Uncover the advanced techniques you can use to truly become a master of speaking. No matter where you are or who you're talking to, you can persuade and compel your audience using only the power of your voice.
MODULE 2: COMMANDING ATTENTION
Learn about the key elements you need to use so you can speak in a way that instantly grabs attention–and keeps it! From push and pull, staying in the now, and boldly owning it, you'll walk away from this module ready to captivate.
PERSONAL FEEDBACK
This is what makes the magic! You won't be doing this work in a vacuum. You will send Tracy assigned practice videos as you move through the course, and she will guide your progress with personal feedback on each video.
THE VOICE + CONFIDENCE
PERSONAL STARTER KIT
Captivate the Room with Your Voice Self-Paced Course…….Valued at $497

Personal feedback from Tracy on your video submissions…….Valued at $1800

Total Value = $2297

Masterclass Price = $497
CAN MY VOICE REALLY TRANSFORM MY BUSINESS?
Yes! What most people don't realize is that your voice is what tells the world who you are. Your voice is more revealing than your appearance or even the words you say. If you don't know how to use your voice, there's a good chance that you're sending the wrong kinds of messages to your audience and getting the wrong kind of results — not enough followers, engagement, and sales.
I DON'T WANT TO BE A PROFESSIONAL SPEAKER. WHY DO I NEED THIS?
Even if you aren't a professional speaker, you use your voice to speak to potential customers, clients, colleagues, family and friends. And if you find that others aren't listening to what you have to say, or your message doesn't seem to resonate with your audience, you are missing out on opportunities to connect and build a bigger, more engaged following. This laser-focused program will show you how to use your voice more effectively, no matter what business you're in!
WHO IS VOICE + VISIBILITY FOR?
If you're not quite ready to invest in a full coaching program, but you know you aren't reaching your potential in your business and life, then Voice + Visibility is for you. It's a focused, quick-start program so you can take action right away, and start learning how to use your biggest asset — your voice — to supercharge your business. Most people have no idea how to use their voice intentionally, so this streamlined program will help you stand out from the crowd and show up bigger and better than ever, immediately!
IT'S TIME TO USE YOUR SECRET WEAPON...
YOUR VOICE!
THE VOICE + CONFIDENCE
PERSONAL STARTER KIT
Captivate the Room with Your Voice Self-Paced Course…….Valued at $497

Personal feedback from Tracy on your video submissions…….Valued at $1800

Total Value = $2297

Masterclass Price = $497

Don't miss out! The Voice + Confidence Personal Starter Kit is only available for a limited time!
JOIN THE HUNDREDS OF PEOPLE WHOSE LIVES HAVE BEEN CHANGED BY PSYCHOLOGY OF THE VOICE®!
For coaches and entrepreneurs who are ready to transform
Is Your Voice Holding You Back?
It's time to flip the script -- let's turn your voice into your #1 asset so you can speak with confidence and credibility
Let's face it: building your business comes with a lot of challenges.
And there's a lot of advice out there about who you should be or how you should do it.
"If you just follow this one perfect formula, you'll be on the rocket to success"... If only, right?!?
But nothing gets you further from success than trying to be what you aren't. The truth is, you don't have to be perfect or put on an act to be successful.
What you DO need to do? Be you.
Sounds simple enough, doesn't it? But if you're like most people, there's nothing scarier than showing the world who you really are.
When you're trying to show up for your business, the "What ifs" like to come along for the ride…
What if... you sound like you don't know what you're talking about?
What if... you say the wrong thing and people disagree with you?
What if... they don't even like you after they hear what you have to say?
You've probably tried pushing through these doubts…
After all, you don't give up easily and you know you're capable of more, yet something isn't quite clicking...
You know your stuff -- your clients and customers would even say you're an expert. Yet you struggle to speak with authority and truly own your expertise.
Your efforts are falling flat. People aren't really responding in a big way to your message


You're suffering from perfection, stressing about what to say when you get in front of people -- you want to make sure it's 100% right, but instead you find yourself stumbling over your words.
You want to "put yourself out there" more -- in person, over Zoom, on social media -- but what's the point if you're speaking to an empty room?
There is a better way to show up and stand out from the crowd -- using a secret weapon that's totally unique to YOU.
And I'm here to share it with you.
Have we met?
Hi, I'm Tracy Goodwin, founder and voice expert at Captivate the Room. I've worked with entrepreneurs and coaches like James Wedmore and Selena Soo to help them tap into the power of their voice, so they can feel more confident, increase their sales and captivate their audience.
You see, for a long time, I knew my voice had power, but I didn't understand exactly how it worked. I started winning speaking awards when I was just 12 years old, and eventually, I started coaching professionals, business owners, and entrepreneurs on how to use their voice.
After years of helping people, I found something really interesting…
The benefits my clients enjoyed went WAY beyond "improving" their speaking skills...
My clients found more success in business (and in life!) after working with me.
Person after person told me:
"Tracy, this work has transformed my life!"
Clients like Gene, a self-professed introvert, who had struggled to string together more than a few words in front of other people, even his own wife, and now revels in creating Facebook Lives with tons of interaction from his viewers and can't wait to pitch his business with confidence and ease.
Or Chrissy, who signed up to learn how to get better at making videos and came away with a "complete personal growth journey."
Or Sherry, who is an expert in her field, but wasn't as confident in her speaking as she wanted to be, and now gets more leads than ever from her online workshops.
For these people, their entire way of connecting with their audience and with potential clients transformed.
I didn't teach them how to memorize a sales script.
I didn't show them how to completely restructure their business.
I didn't share revolutionary marketing secrets.
So, what did I teach them?
I taught them how to use their voice to connect, compel, and captivate their audience…
Which led to more clients, more impact, and more revenue.
"Tracy helped me harness a powerful tool: my voice."
James Wedmore

Multi 7-Figure Digital CEO
Host of Mind Your Business Podcast
"Tracy is my secret weapon. The coaching I did with her was so powerful and has had such a life-changing and long-lasting effect. As soon as I started to work with her, I started to get a different type of feedback from my audience, listeners, clients, even my wife. People wanted to know what the difference was because they could feel it and hear it. Isn't that what we all want, to show up in such a way that we make that kind of impact?"
You too can use your voice to grow your impact, forge better relationships with your clients and customers -- and even change your life.
You just need to learn how.
Introducing…
Captivate The Room With Your Voice
DIGITAL COURSE
The Step-by-Step Roadmap to Turn Your Voice into Your Most Valuable Asset -- in Business and in Life!
What's Inside
MODULE 1
Revealing the Real You
Through the framework of Psychology of the Voice, uncover the fears that are holding you back so you can get out of your head and start moving forward into success.
WALK AWAY WITH:
* What you need to do to get out of your head, once and for all
* How to reprogram your muscle memory so it works for you, not against you
* The steps you need to get your sound unstuck and reconnect with the fuel of your voice: your breath
MODULE 2
Commanding Attention
One of the best ways to connect with people is, simply, to talk to them. But how can you talk in a way that leaves people on the edge of their seat, instead of tuning you out? It starts inside you! In this module, we'll cover what you need to know to create your rock-solid foundation of confidence, emotion, and awareness, so you can flip the switch from boring to compelling and keep your audience hanging on your every word -- and coming back for more.
WALK AWAY WITH:
* How to boldly own what you say, so people see you as the expert you really are
* Why staying in the now -- not memorization -- is the key to saying the perfect words every time
* What to do to infuse everything you say with powerful emotion that your audience can't resist
MODULE 3
Captivate and Compel
In this module, you'll go deeper into the details that will take your speaking from average to amazing. Tap into this full toolbox of techniques and variations that you can start using immediately, for small shifts that make a big impact in the way you communicate.
WALK AWAY WITH:
* How to leverage unpredictability so you can hook your audience and keep them along for the journey
* The difference between vocal energy and vocal variety -- and how to use them
* How to combine the "Core Five" elements of vocal variety with your newfound confidence in your voice, so you can captivate and persuade your clients and customers!
Plus, you'll get:
Instant Access to the course when you purchase so you can start learning and implementing right away!
More than 20 laser-focused videos so you don't have to invest hours and hours of your time to get the information you need
Self-paced modules so you can study, practice, and review the lessons at your own speed
Working with Tracy has been an extraordinary transformational experience and has led to much expansion with the work I do in the world as well as my personal development. -- Joy Dushey, Client
| | |
| --- | --- |
| Yes, I want to captivate the room! | |
In Captivate The Room With Your Voice, you'll learn how to use your voice and experience real transformation, so you can:
Create instant connections with people who want to hear what you have to say
Remove the voice masks that are holding you back, so you can speak and feel confident even in videos
Speak from the heart with truth and authenticity without worrying what others will think of you
If you've ever felt like:
You're not reaching as many people as you want to
Your work isn't having the impact you'd imagined
You have more to give but you're not sure how to tap into it
Then it's time to stop.
Stop wasting time, money, and energy on fixes that aren't moving the needle.
Instead, start investing in real change that begins with YOU.
The change that comes from connecting with the power in your voice.
**
PLUS… GET THIS SPECIAL BONUS
Reclaim Your Real Voice
In this bonus course, you'll learn how to reconnect with your true voice. What is your true voice? It's the voice you were born with -- your vulnerable voice. And it's the only voice we can connect to!
Reclaiming your unique voice means opening yourself up to authentic connection, and it's essential to getting what you want from your business and your life.
What's inside:
Modules on Breathing, Getting Grounded, and Technical Elements
Grounding exercises to help you reconnect the mind, the body and the voice
The three parts of breathing and why your breathing is the glue that holds everything together
And much more!
"I hired Tracy to help with my virtual live event…and the sales keep rolling in."
Selena Soo
Publicity & Marketing Strategist
"Having to hold space for 300+ people and captivate the room at the event felt like a challenge for me. In the past I've had a tendency to talk really fast and convey a lack of confidence in my voice that really doesn't make me look like the authority.
We have now brought in $800,000 and the sales keep rolling in. Tracy was a huge part of helping me connect deeply with the audience and move them with my words."
Ready to unleash the power of your voice?
Get started now.
Captivate the Room with Your Voice Digital Course (Valued at $997.00)
BONUS! Reclaim Your Real Voice Digital Course (Valued at $397.00)
Total Value = $1694.00
Regular Price =
Today's Price = $497.00
| | | |
| --- | --- | --- |
| | Yes, I want to captivate the room! | |
Captivate The Room With Your Voice is perfect for you if…
You're a coach, business owner, or entrepreneur who wants to grow
You want to connect with your audience more authentically
You're ready to learn and transform!
This isn't for you if…
You're not willing to do the work to uncover your subconscious programming and make changes
You're looking for a one-size-fits-all get-rich-quick scheme
You're not ready to gain the confidence you need to step into your expertise and authority
"I highly recommend this course and working with Tracy."
Nathalie Duporteau
Real Estate Investor
"Tracy is a gifted and insightful voice coach. Her work is so much more than voice coaching. Her course was personally transformative and helped me gain more skills and confidence speaking in person and in video."
Questions? Let's answer them.
Can my voice really make that big of a difference in my business?
Absolutely! As you'll learn in the course, your voice naturally has a profound impact on the people around you. But without doing this work, you could be sending the wrong messages and showing up as unsure of yourself, defensive, or untrustworthy. And those messages are sabotaging your business.
Once we identify those messages, we can work on removing them and putting in messages of confidence, authority, and credibility
How much time do I need to commit to this?
Each module is made up of short, focused videos. In just 15 minutes a day, you can be on your way to transforming the way you communicate, your business, and your life!
I'm not a professional speaker, so why do I need to work on my voice?
If you spend any time communicating with other people, this course can help you! Not only will you see benefits in your business, you'll also see the positive effects in your relationships with family and friends, and in increased confidence in yourself and your abilities.
"It feels so freeing."
Jen Argue
Mastermind Coach
"When I met Tracy, I was already at a point of frustration with my voice. It just didn't match who I am. I'm a natural leader but my voice wasn't holding other's attention and I couldn't figure out why.
Tracy taught me how to use my voice in a way I didn't know was possible and I can finally communicate in a way that delivers my message in the way my heart wants to whether it's in sales or my personal life."
Some people choose to stay stuck in old habits and patterns that aren't working...
Why not choose the transformation and freedom that comes from Captivating the Room!
Get Started Today
Captivate the Room with Your Voice Digital Course (Valued at $997.00)
BONUS! Reclaim Your Real Voice Digital Course (Valued at $397.00)
Total Value = 1694.00
Regular Price =
Today's Price = $497.00
| | | |
| --- | --- | --- |
| | Yes, I want to captivate the room! | |
Your Instructor
Tracy Goodwin, owner of Captivate the Room, started speaking and winning awards at the age of 12. She later went on to become a professional actor for many years after receiving a BFA in Directing. In addition to her BFA, Tracy holds two MA's and has coached hundreds of people around the globe how to step into their voice power and make a big impact with their message. Tracy is a true expert in voice technique, presentation and storytelling skills and has been for over 20 years. Her approach is very unique in that it not only creates voices that captivate the room but it also transforms lives. People all over the world seek her out for her expertise. But, she really loves the by product, building massive confidence in people so they can share their message, beautifully. Her voice training is game changing for actors, speakers, entrepreneurs, business executives, leaders and podcasters of all ages. Tracy teaches you how to speak in color, not black and white and change lives, no matter the message, the venue or the size of the audience.
Frequently Asked Questions
When does the course start and finish?
The course starts now and never ends! It is a completely self-paced online course - you decide when you start and when you finish.
How long do I have access to the course?
How does lifetime access sound? After enrolling, you have unlimited access to this course for as long as you like - across any and all devices you own.
What if I am unhappy with the course?
We would never want you to be unhappy! If you are unsatisfied with your purchase, contact us in the first 30 days and we will give you a full refund.
Congratulations!
Get ready to learn how to maximize your greatest asset, your voice!
Tracy